Closets represent two pronounced challenges: storage and organization.
We all love a safe and efficient closet with organized spaces. What we don't always get is a great and awe-inspiring design that brightens up the space.
If you are up for this style, here we go.
#1. Behind the Bed and Wall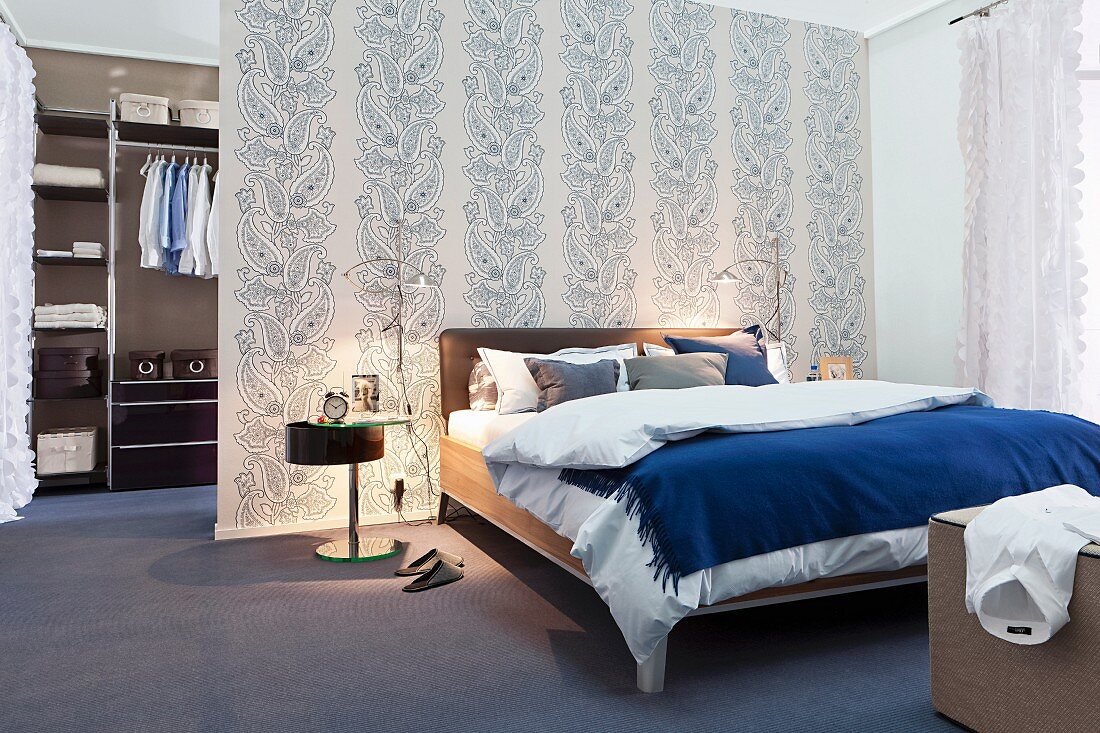 Recently, many have asked about the walk-in wardrobe that sits behind the burgundy wall in my bedroom and finally now I can share how this closet provides a great element of privacy, where all my clothes are hidden away from plain sight.
Today, closets aren't just a luxury and you've got some quite popular ideas out there on how to incorporate this kind of storage in your bedroom.
The key to make a closet work perfectly for you is to have a clear idea on how organized or messy you are.
See, if you are naturally disorganized and no matter how big the closet is, you know you'll end up with a hideous jumble of stuff, I don't think you'll want to expose such clutter in the open space of your bedroom.
One cool thing you could do is to use the space behind your bed to create a more practical and modern closet, maximizing privacy and efficiency.
#2. Stand-Alone Closet Units
If you take a look at Beyoncé and Jay-Z's luxurious couple walk-in closet or at Christina Aguilera's mind-blowing leopard print storage room, you'd say that's the type of closet God would have built if he had money.
It's a given that celebrities are fashion bugs who would spend a big fortune on their closets. But, it seems that not everyone can afford to dream a large and sophisticated closet with punctual modern touches.
Thing is, once you start, adding specialized closet accessories, higher-end finishes and things like closet cabinets will be inevitable.
What does this mean?
The more complex the closet design, the more it will cost.
Plus, most of the time, homeowners don't have the space for an expansive closet.
If you want to make your life easier without splurging a fortune, transforming a small corner into an efficient storage space will be both time and cost-saving.
However, that shouldn't stop you from seeking an organized and elegant space with a DIY appeal.
#3. Display Cabinets
Sometimes you want to style your stuff for all to see.
That's not a bad idea.
If you have the budget and feel the need for extra storage without sacrificing appearance, opting for high-quality glass display cabinets will help your space to feel larger and airier.
Display cabinets do not only offer a sleek functional storage style, but also bring an exceptional beauty to your space, including the idea of creating an impressive focal point in your room.
#4. Add More Space With Sliding Hangers
I've got friends with huge wardrobes that are seemingly never big enough to house all their clothing.
If you've got the same problem, I suggest creating more space with sliding hangers.
For those who are on a space budget, sliding hangers are ideal options for organizing your work attire, casual clothing and exercise clothing efficiently.
Need a clothing item? Just slide it out!
#5. Bath and Closet
I don't know who came up with this brilliant idea, but this creative layout does exploit the benefit of going out from the bathroom and landing straight into the closet. This design is not only about saving a lot of floor space, but it's all about going big, creative and in a grand fashion.
#6. Incorporate Handy Iron and Board
Imagine you are super late for a hot date.
Sorting through all your clothing items, you fall on the perfect outfit, only to realize it's entangled with creases and wrinkles.
And, there, you'll have to run to the laundry room and then come back for some quick touch-ups.
But, what if you have a handy iron and board integrated into your closet?
#7. Provide

S

eating
Who doesn't want a comfortable place to sit while getting fancy ready?
Accent seating gives a chic and polished look to the space while adding a pop of dressing room to your closet.
Which idea inspires you the most?